Chief of Section, Human Resources Management
Description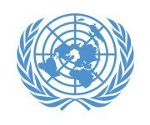 | | |
| --- | --- |
| Posting Title: | CHIEF OF SECTION, HUMAN RESOURCES MANAGEMENT, P5 |
| Job Code Title: | CHIEF OF SECTION, HUMAN RESOURCES MANAGEMENT |
| Department/Office: | AU/UN Hybrid Operation in Darfur |
| Duty Station: | EL FASHER |
| Posting Period: | 29 November 2019 - 12 December 2019 |
| Job Opening Number: | 19-Human Resources-UNAMID-126842-R-El Fasher (M) |
| Staffing Exercise | N/A |
This position is located in the African Union -United Nations Hybrid Operation in Sudan (UNAMID). The incumbent will work under the direct supervision and general guidance of the Director of Mission Support (DMS).
Responsibilities
Under increased Mission Delegation of Authority levels, Chief of Section, Human Resources, will exercise strategic coordination, managerial and supervisory control over all Human Resources coordination required by the mission, which is a large and complex operations:
STRATEGIC PLANNING:
•Actively participates in the mission planning process throughout the mission lifecycle and plays a critical role in determining the staffing requirements and structures;
•Advises the Senior Management Team on emerging capacity gaps in accordance with the evolution of the mission mandate;
•Advises Senior Mission Leadership on workforce planning, including implementation of succession planning and forecasting of human resources requirements during the start-up and draw down, including closely coordinating with Department of Management, Strategy, Policy and Compliance (DMSPC) and Department of Operational Support (DOS) to manage the drawdown and retrenchment of staff and working with individual staff to advise them on potential future placements within UN field operations and beyond;
•In coordination with all mission components, develops coherent staffing strategies to support the implementation of the Mission's mandate including developing recruitment and deployment plans for all civilian positions;
•Reresponsible for conducting systematic assessment of the workforce per function, skill, level, category, occupational group, gender and geography and for identifying the gap and determining what actions to be taken to respond to the needs taking into account existing vacancies, projected changes due to retirements, returns to parent duty station and turnover rates;
•Advises and guides mission leadership on the implementation of Organization-wide change initiatives especially those related to and have impact on the human resources.
•Advises and guides mission leadership on the implementation of restructuring of the Mission and downsize/ draw-down plans especially related to and have impact on the human resources
BUDGET PROCESS:
•Participates substantively in the entire budget development process and provides advice to the Senior Management Team on the human resources requirements, staffing table and organizational structure of all sections based on the DMSPC/OPPFB guidelines on budget review;
•Coordinates with DOS and DMSPC on the review of the staffing aspects of the mission's budget as well as preparation of documentation for classification of posts and the implementation of classification result;
•Ensures that expenditures related to staffing are within the budgeted staffing costs, coordinating with the Finance and Budget Units at both the mission and Headquarters levels to ensure availability of funds;
•Ensures the integrity of the staffing table as approved in the budget without discrepancy in sections and locations;
•Advises hiring managers on loaning of posts between sections and movement of posts and staff between locations based on the SOP on Staffing table and Post Management.
RECRUITMENT AND STAFF SELECTION:
•Manages the selection and appointment process of highly competent candidates by advising managers on organizational policies and SOPs on the staff selection process and ensuring compliance and required level of skill to conduct and document competency-based interviews for position specific job openings, if required;
•Facilitates the mission's participation in expert panels to evaluate applicants to generic job openings;
•Manages recruitment and selection related process in a transparent, consistent, merit-based and fair manner, complying with policies related to gender balance, geographic diversity, as well as enhancing the management and staff awareness of these policies.
HUMAN RESOURCES MANAGEMENT ADVISORY AND MONITORING:
•Acts as the functional advisor to Senior Management and staff on Human Resources policies and practices and provides direction and coherence to all HR activities and systems in the mission;
•Acts as the primary conduit between Senior Mission Management and staff regarding all human resources issues through developing close and substantive ties with Senior Management across the Mission spectrum;
•Supervises the process of knowledge/awareness building amongst programme managers, senior management and staff members with regard to the staff rules and regulations, and related guidelines in the administration of entitlements and their strict application by the HR Section, including consistent implementation of delegated authority;
•Provides direction and advice on interpretation and application of policies, staff regulations and rules;
•Monitors and evaluates the effectiveness of related guidelines, staff rules and regulations, practices and procedures, and recommends revisions to DMSPC/DOS, where necessary;
•Responsible for monitoring and evaluating the implementation of delegated authorities through inter-alia, the Human Resources Management Scorecard (HRM-S), Service Level Agreements, HRM-S indicators, and the Senior Managers' Compact;
• Represents Senior Mission Management on a variety of joint staff-management advisory bodies in an ex officio advisory or active capacity, as appropriate;
•Serves as primary interface regarding cross-cutting HR issues between the Head of Mission and DMSPC/DOS, with a key proactive role of open communications, advisory services, and collaborative problem resolution.
PERFORMANCE MANAGEMENT:
•Ensures compliance with the UN staff performance management system by supporting the mission in its implementation and monitoring its compliance and providing guidance and substantive support to mission components on standards for the development of service, section, unit and individual work plans;
•Coordinates with the Integrated Mission Training Center to organize training/orientation programmes in performance management and supervisory skills and relevant policies and procedures as well as work plans;
•Ensures full-compliance of e-Performance and provides input to the establishment of Management Review Committee and Joint Monitoring Committee and Rebuttal Panel and acts as their facilitator and ex-officio member;
•Counsels staff and managers in cases of under performance and facilitates the implementation of a Performance Improvement Plan (PIP) or other remedial measures, when required.
STAFF DEVELOPMENT:
•Advises on training opportunities for HR staff as well as staff in general, giving particular attention to developing and implementing career development paths for national staff members;
•Provides regular information on global vacancies and opportunities for the generic rostering system;
•Coordinates with DMSPC/DOS as a conduit for headquarters initiatives and as the initiator of individual career advice and counseling, which includes the planning and shaping the progression and movement of staff both within and among missions as part of the global secretariat.
CAPACITY BUILDING:
•Continuously assesses the skill, expertise and knowledge of the HROs and HRAs, ensuring participation of human resources staff in relevant training programmes and designing individual on-the-job and group training programmes on specific subject matters in the area of human resources management, including in the use of HRIS systems or ERP systems.
ADMINISTRATION OF JUSTICE:
•In coordination with interested parties such as the Staff Association(s) and the mission's Conduct and Discipline component, Chief of Staff, the CHRO will address and mitigate staff grievances with the purpose of resolving them at the lowest practical level;
•Develops preventive activities such as training and sharing best practices and recent jurisprudence related to human resources management;
•In consultation with DMSPC/DOS, coordinates the mission's responses to formal and informal requests coming from different entities under the Administration of Justice (AoJ) system and implements decisions applicable to the mission.
STAFF AND MANAGEMENT RELATIONS:
•Develops an "open door" dialogue between the management and international and national staff unions (Field Staff Union and National Staff Committee respectively) to discuss HR matters and related staff issues;
•Meets frequently with staff representatives to address issues affecting the staff and coordinates the quarterly meetings with the Head of the Mission and Director of Mission Support;
•Organizes, as necessary, general or specific meetings for the staff on issues such as HR aspects of mandate implementation, status of HR reforms and other organizational change initiatives.
COORDINATION WITH OPERATIONS OF UN COUNTRY TEAM:
•Maintains open communication with UN Country Team for efficient coordination in conducting national staff salary surveys, DSA/cost of living surveys, and establishing common policies on other in-country entitlements for staff.
COMMUNICATION:
•Develops and implements a communication strategy. This should include a dedicated intranet page on HR issues, which is updated on a regular basis, regular formal (town halls, meetings with program managers) and informal meetings with staff at all levels to clarify and communicate policy and staff administration issues.
EMERGENCY PREPAREDNESS AND CRISIS MANAGEMENT:
•In consultation with the mission Principal Security Advisor, the Staff Counselor and the Welfare Officers, the CHRO works on the mission's response to a natural disaster/incident with focus on anticipating, planning and coordinating the overall HR response in consultation with DOS. The CHRO involves in all the three phases of a) emergency preparedness, b) crisis response and c) the long-term follow-up to the needs of affected staff members.
CHANGE MANAGEMENT PLAN:
•Develops a set of actionable and targeted change management plans, including communication, coaching and training plans in order to implement these responsibilities and the evolving directives due to the change in policies, processes, systems and structures in the HR Section and reports on the implementation of the change management process by identifying gaps and risks and recommends corrective action.
Competencies
PROFESSIONALISM: Knowledge of human resources policies, practices and procedures and ability to apply them in an organizational setting. Ability to identify issues, analyze and formulate opinions, make conclusions and recommendations on complex human resources policy and development issues. Shows pride in work and in achievements; Demonstrates professional competence and mastery of subject matter; Is conscientious and efficient in meeting commitments, observing deadlines and achieving results; Is motivated by professional rather than personal concerns; Shows persistence when faced with difficult problems or challenges; remains calm in stressful situations.
PLANNING AND ORGANIZING: Develops clear goals that are consistent with agreed strategies; Identifies priority activities and assignments; Adjusts priorities as required; Allocates appropriate amount of time and resources for completing work; Foresees risks and allows for contingencies when planning; Monitors and adjusts plans and actions as necessary; Uses time efficiently.
CLIENT ORIENTATION: Considers all those to whom services are provided to be "clients" and seeks to see things from clients' point of view; establishes and maintains productive partnerships with clients by gaining their trust and respect; identifies clients' needs and matches them to appropriate solutions; monitors ongoing developments inside and outside the clients' environment to keep informed and anticipate problems; keeps clients informed of progress or setbacks in projects; meets timeline for delivery of products or services to client.
LEADERSHIP: Serves as a role model that other people want to follow: empowers others to translate vision into results; is proactive in developing strategies to accomplish objectives; establishes and maintains relationships with a broad range of people to understand needs and gain support; anticipates and resolves conflicts by pursuing mutually agreeable solutions; drives for change and improvements; does not accept the status quo; shows the courage to take unpopular stands. Provides leadership and takes responsibility for incorporating gender perspectives and ensuring the equal participation of women and men in all areas of work; demonstrates knowledge of strategies and commitment to the goal of gender balance in staffing.
JUDGEMENT/DECISION- MAKING: Identifies the key issues in a complex situation, and comes to the heart of the problem quickly; Gathers relevant information before making a decision; Considers positive and negative impacts of decisions prior to making them; Takes decisions with an eye to the impact on others and on the Organization; Proposes a course of action or makes a recommendation based on all available information; Checks assumptions against facts; Determines that the actions proposed will satisfy the expressed and underlying needs for the decision; Makes tough decisions when necessary.
Education
Advanced university degree (Master's degree or equivalent) in human resources management, business or public administration, social sciences, education or related field is required. A first-level university degree in combination with additional two years of qualifying experience may be accepted in lieu of the advanced university degree.
Work Experience
A minimum of ten (10) years of progressively responsible experience in human resources management, administrative services, management and analysis or related area is required.
Practical experience with the planning and delivery of human resources services in complex, volatile and conflict and post-conflict environments is required.
Experience in managing staffing, administration, and talent acquisition using enterprise resource platforms is required.
Experience implementing change management initiatives is desirable.
Experience in managing complex restructuring processes, including rightsizing of workforce is desirable.
Languages
English and French are the two working languages of the United Nations Secretariat. For the position advertised, fluency in English (both oral and written) is required. Knowledge of another UN official language is desirable.
Assessment
Evaluation of qualified candidates may include an assessment exercise which may be followed by competency-based interview.
Special Notice
Staff members are subject to the authority of the Secretary-General and to assignment by him or her. In this context, all staff are expected to move periodically to new functions in their careers in accordance with established rules and procedures.
United Nations Considerations
According to article 101, paragraph 3, of the Charter of the United Nations, the paramount consideration in the employment of the staff is the necessity of securing the highest standards of efficiency, competence, and integrity. Candidates will not be considered for employment with the United Nations if they have committed violations of international human rights law, violations of international humanitarian law, sexual exploitation, sexual abuse, or sexual harassment, or if there are reasonable grounds to believe that they have been involved in the commission of any of these acts. The term "sexual exploitation" means any actual or attempted abuse of a position of vulnerability, differential power, or trust, for sexual purposes, including, but not limited to, profiting monetarily, socially or politically from the sexual exploitation of another. The term "sexual abuse" means the actual or threatened physical intrusion of a sexual nature, whether by force or under unequal or coercive conditions. The term "sexual harassment" means any unwelcome conduct of a sexual nature that might reasonably be expected or be perceived to cause offence or humiliation, when such conduct interferes with work, is made a condition of employment or creates an intimidating, hostile or offensive work environment, and when the gravity of the conduct warrants the termination of the perpetrator's working relationship. Candidates who have committed crimes other than minor traffic offences may not be considered for employment.
Due regard will be paid to the importance of recruiting the staff on as wide a geographical basis as possible. The United Nations places no restrictions on the eligibility of men and women to participate in any capacity and under conditions of equality in its principal and subsidiary organs. The United Nations Secretariat is a non-smoking environment.
Applicants are urged to follow carefully all instructions available in the online recruitment platform, inspira. For more detailed guidance, applicants may refer to the Manual for the Applicant, which can be accessed by clicking on "Manuals" hyper-link on the upper right side of the inspira account-holder homepage.
The evaluation of applicants will be conducted on the basis of the information submitted in the application according to the evaluation criteria of the job opening and the applicable internal legislations of the United Nations including the Charter of the United Nations, resolutions of the General Assembly, the Staff Regulations and Rules, administrative issuances and guidelines. Applicants must provide complete and accurate information pertaining to their personal profile and qualifications according to the instructions provided in inspira to be considered for the current job opening. No amendment, addition, deletion, revision or modification shall be made to applications that have been submitted. Candidates under serious consideration for selection will be subject to reference checks to verify the information provided in the application.
Job openings advertised on the Careers Portal will be removed at 11:59 p.m. (New York time) on the deadline date.
No Fee
THE UNITED NATIONS DOES NOT CHARGE A FEE AT ANY STAGE OF THE RECRUITMENT PROCESS (APPLICATION, INTERVIEW MEETING, PROCESSING, OR TRAINING). THE UNITED NATIONS DOES NOT CONCERN ITSELF WITH INFORMATION ON APPLICANTS' BANK ACCOUNTS.
WARNING: Do not to pay any money to get a job. Please report fraudulent jobs to info@jobsinsudan.com